About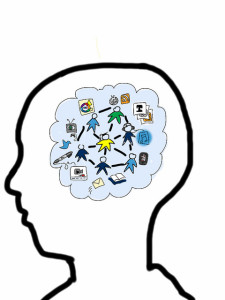 ENGL794/894: Digital Writing Research
Summer Session 4 (July 3-Aug. 15)
July 3-14: Online, primarily asynchronous with a few synchronous meetings we'll negotiate time/date
July 15-26: On campus, 2:15pm-3:50pm (location TBA)
July 27- Aug.15: Online, primarily asynchronous with a few synchronous meetings we'll negotiate time/date
Digital writing, new media, digital humanities, techno-rhetoric…
Although we may not agree upon a term to label this growing field of study, we can agree that digital technologies have greatly impacted what we consider "writing" as well as the methods we use to study writing. This course will introduce students to a variety of (adapted) methods used to research both the process and products of (digital) writing (in digital spaces). In short, we will explore the question: What are digital writing research methods and applications?
During the course, we will examine a variety of research methods including more traditional research methods and how they have adapted to digital spaces as well as methods that have emerged to engage with digital texts (including images, audio & video). We will explore research methods that, like usability testing and archival research, help analyze both the process and produce of digital texts as well as digital research applications, like corpus and qualitative analysis applications. As with any introductory class, we will not go into enough detail for any one method or application to become an expert; instead, we will explore a variety of digital writing objects of study and the various research questions, methods, and applications that might be applied to them.
Although designed as an introduction to digital writing research, the course is designed flexible enough to integrate the digital research methods currently used in literary and cultural studies. Assignments, which may be tailored to student interests, will include both collaborative projects and individual work.
Please contact Shelley Rodrigo at rrodrigo@odu.edu if you have questions!
Creative Commons licensed image posted at Flickr by Guilia Forsythe